Car insurance is a type of insurance coverage that car owners buy to protect themselves in case of bodily injury due to a vehicle-related accident and repair or car replacement. Insurance also covers the medical bills of others as well as property damage. It is necessary because the insurer covers the rest of the bills except for the deductible if an accident happens.
If you want to subscribe to auto insurance, there are 10 things you need to know about car Insurance.
1. How Auto Insurance Works
Auto insurance works almost the same as other insurance policies, including homeowners insurance and medical insurance. The first thing you do is purchase an auto insurance policy and determine the premiums you want. Most insurance companies require auto insurance coverage to last for six months, after which you must renew.
However, some insurers offer longer or shorter policies. You are then required to pay premiums, of which you can choose to pay the full amount upfront or monthly. All you need to do is agree with your insurer. If you want to enjoy some discount, pay the total amount upfront.
If later you are involved in an accident, you'll have to submit a claim to your insurer, but before they honor the policy, you must pay the deductible, and they will pay the remaining amount.
2. How Are The Policy Prices Determined
Car insurance policy rates vary from company to company. This is because different companies use varying means of assessing the vehicle's values and other factors before deciding your total insurance cost.
Therefore, no two insurance companies will have the exact policy cost; that is why you're advised to do your research and compare quotes from at least three insurance companies before settling on one.
Factors that insurers use to determine the cost of your insurance policy include the type of coverage you choose, the make and model of the vehicle, and how you use the vehicle. The place you live is also a significant determinant.
For instance, if you live in a neighborhood where the crime rate is high, your insurer will consider it a more significant risk than someone living in a safe rural area.
Age, gender, and marital status are also huge determinants of insurance costs. Statistics indicate that young drivers, predominantly male, are at a higher risk of getting into accidents. But married people are less likely to get into an accident. While they are on the road, they either have their families in the vehicle or know people depend on them. So they will be responsible drivers.
A credit score also determines your insurance rates. This is because insurance companies believe that clients with excellent credit scores are less likely to cause accidents as they are responsible beings. However, many people claim that using credit scores to determine the rates is biased as it unfairly penalizes low-income earners.
Learn how to fix bad credit score if yours is too low
3. Factors That Affect Car Insurance Rates
Several factors influence the cost of your insurance premiums, and they include:
A new car will be a bit more costly to insure than an old one. Also, suppose your car has extra safety and security features, such as anti-theft and burglary alarms and advanced braking mechanisms. Your insurance company will offer you some discount, affecting the overall rate of your policy.
Your insurer will look at how long you've been driving if you've caused an accident, and how clean your driving record is. They will also check if you've received a DUI charge. If you're found to have a clean driving record with no violations, accidents, or DUI charges, your insurance policy rate will be low as you will be granted a discount.
However, your insurer will see you as a risk if your record is far from clean, so your rates will be higher.
The more the mileage, the more the insurance rate. For instance, drivers who use less than 10,000 miles per year are usually accorded some discount. So if you tend to drive for long distances, you'll be offered higher rates as it increases your chances of getting into an accident.
The type of insurance policy you choose also influences your rates. And for some policies, you'll need add-ons to cover the extra expenses to ensure that you are not underinsured or vulnerable on the road.
if you pay a higher deductible, the cost of your insurance rate will be lower, but if you pay a lower deductible, then the cost increases.
Duration you've been with the insurance company:
If you have been with the insurance company for not less than three years, then the insurer will give you loyalty discounts.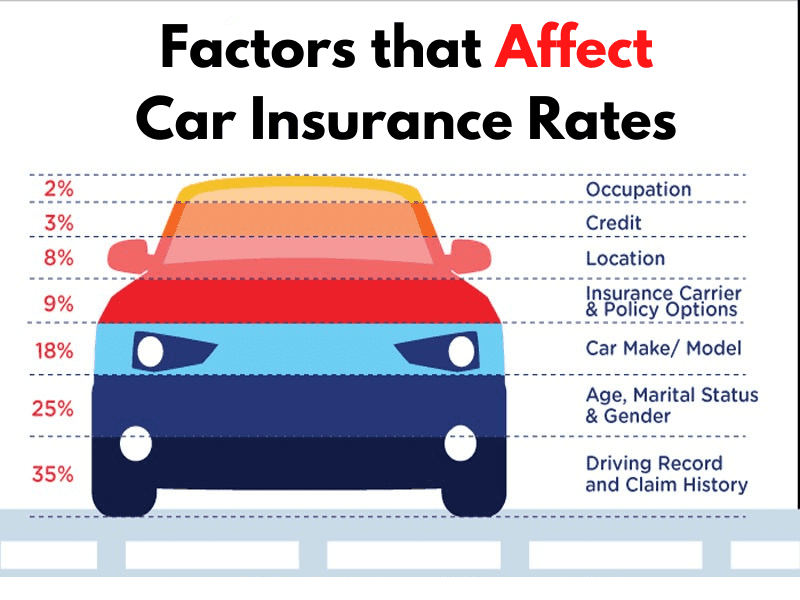 4. The Different Types Of Coverages
Before purchasing auto insurance, you need to understand the different types of coverage available. Ensure that your policy covers third-party drivers such as family or friends in case of an accident.
These are some of the most common coverages offered by insurance companies:
Auto Liability insurance policy
This policy is meant to protect you in case of an accident. Liability insurance is a must in most states, and it covers bodily injury and property damage. If another person is injured during the accident, the insurance will pay their medical expenses and cover damage to other people's property.
Collision insurance policy
This policy covers any damage that happens to your vehicle. Your insurer will cover the total cost of replacing or repairing your car, less the deductibles. Although collision coverage is optional, your lender must stipulate that you get one if you are leasing your car.
Comprehensive insurance policy
This helps cover your vehicle if things like thefts, vandalism, or natural disasters cause damage. It covers the total cost of replacing or repairing your car, less the deductible. Your lender may insist that you get comprehensive coverage if you are leasing your car.
Uninsured or underinsured motorist coverage
The policy protects you if you get into an accident with uninsured or underinsured motorists. It saves you from sorting the damages out of pocket. This type of coverage pays your medical bills and those of your passengers if any. Uninsured property damage is a must in some states, and it covers the damage to your car.
Personal Injury protection policy
This policy helps cover the cost of your medical bills and passengers in case you are injured in an accident.
Some other types of coverages that policyholders choose to add to their policies include:
Roadside assistance coverage
Rideshare coverage
Gap Coverage
Commercial Coverage